Email

Home

S. Island

NZ Bred Expts

NZ Grand Champs

Golden Greats 1965-1985

Agility/Obedience

Webring/Links

For further information regarding the BOXER featured click on photo and
It will take your direct to the Owner/Breeders Kennel
Website or Email Address



PAGE FOUR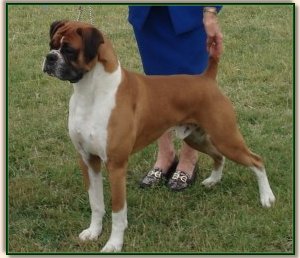 NZ GRAND CHAMPION Glenmorne Justin Style

Sire: Aus Grand Ch Phoenix Harrison Ford
Dam: Ch Glenmorne Mist O 'Morn

Date whelped: 8 November 2002
Owner/breeder: Betty Parker

Best In Show All Breeds
Hawkes Bay Kennel Assn 14th May 2005
Group Judge: Ms K O'Brien (SA)
General Specials Judge: Mrs E Maitland (SA)

Best In Show All Breeds
Ruahine Kennel Assn. 14th October 2007
Group Judge: Mr B Fears, Kaiapoi NZ
General Specials Judge: Mr R Bell, (Vic)

Best In Show All Breeds
East Coast Ladies Kennel Assn. 8th December 2007
Group Judge: Mrs C Roberts (NSW)
General Specials Judge: Mrs H Beasley (NSW)

Best In Show All Breeds
East Coast Ladies Kennel Assn. 9th December 2007
Group Judge: Mrs H Beasley (NSW)
General Specials Judge: Mrs C Roberts (NSW)

Numerous Runner Up In Shows
Best In Groups and Age In Show Awards
A wonderful showman who just loves to please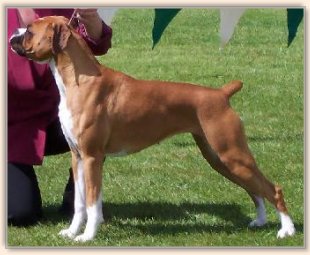 CH Antron Export Glamour Gold

Sire: Can Ch Ajays Ticket To Ride At Quo Vadis (Imp Can)
Dam: Ch Antron Export Glitzy Gold

Date whelped: 3.1.2003
Owner/Breeder: Sylvia Gosse

Geordie is in the middle of her young show career
She has won many group awards.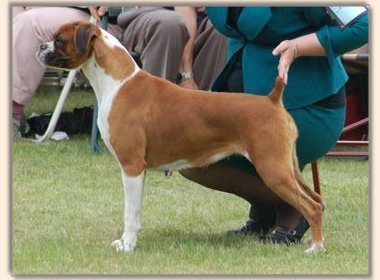 CH Gremlix Southern Krusada at Norbiton

Sire: NZ CH Taratan Perfect Storm at Gremlix (Imp-Aust)
Dam: Kathys Gift of Kaipara

Date whelped: 14.05.2003
Owner/breeder: Owner/Breeder Paul and Kerol Goodwill

Astra is a Multi Age Group/ In Show winner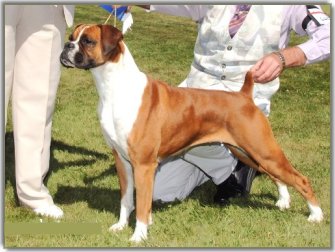 NZ GRAND CHAMPION Zmontalk Dundee Lass at Mavquade

Sire: Ch Denem Courage Under Fire
Dam: Denem Highland Fling

Date whelped: 30.5.2003
Owner/breeder: C Bradley & H & T Yeoman/J De Montalk

BIS All Breeds
Central Hawkes Bay Kennel Assn Show 5.3.2006
Judge: Mr C Connell Tasmania

BIS - 3.6.2006
Wellington Kennel Centre
Judge Beth Warman (Kaiapo NZ)

BIS - 11.03.2007
Oamaru Kennel Association
Margaret Spivey (Oamaru NZ)

2006 NZKC National Dog Show
Reserve Best In Show
Breed & In Show Judge-Mr R de Santiago-Puerto Rico
Group Judge: Mr R Velez-Pico-Puerto Rico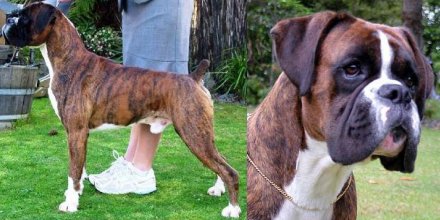 BIS/MBISS/RBISS
NZ Valeska Who Ya Lookin At

Sire: NZ/Aust Gr Ch Valeska Lock Up Ya Daughters
Dam: Eischied Time To Reflect

Date whelped: 8.7.2003
Owned/Exhibited by: Rachel & Ian Davis (Sivad Boxers)
Breeder: Lloyd Harrison & Jan Mace

Tua has achieved the following:

In excess of 50 CC's & 30 BOB's
Multi Best of Groups/Reserve Best of Groups

Multi Age of Groups/Age in Shows

1 All Breeds BIS

3 Best in Specialty Shows

1 Reserve Best in Specialty Show

1 Non Sporting/Utility Best in Show

Dog CC and RUBOB - Pro Plan National Dog Show

Best of Breed - 2009 Eukanuba National Dog Show & Curtain Raiser

Crufts qualified 2007,2008, 2010
Multi Specialty Stakes winner - Head, Body, Mover










Ch Sanlian Scotch On The Rocks

Sire: Ch Korrandulla Trial N Era
Dam: Ch Denem Top Of The Hit List

Date whelped: 08.01.2004
Owner/breeder: J Plant & L Harrison /J Plant


Due to a change in circumstances 'Reuben' has not been exhibited since he was 18 mths of age. His show record speaks for itself, a multi Best of Group winner. As a Puppy he was entered in and was exhibited at 19 All Breeds Champ Shows at every one of those shows he was awarded Best Utility Puppy In Group, winning 6 Best Puppy In Show awards and 5 Best Junior in Show awards.

Reuben is the sire of 1 Aust , 1 N.Z. Ch , 2 other young ones pointed in N.Z. and 1 young one in Aust who at 9 mths has 140 Ch points.








North Island Boxer Pages

1 2 3 5