Email

Home

S. Island

NZ Bred Expts

NZ Grand Champs

Golden Greats 1965-1985

Agility/Obedience

Webring/Links

For further information regarding the BOXER featured click on photo and
It will take your direct to the Owner/Breeders Kennel
Website or Email Address



PAGE FIVE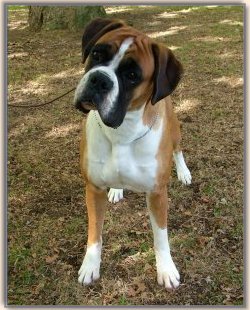 Ch Kadence Final Fantasy

Sire: Ch Valeska Some Like It Hot
Dam: Heirloom Halloween Treat

Date whelped: 27.07.2004
Owner/breeder: Aynsley Downie


Aja is a Best in Group Winner
Multi Reserve in Group Winner
& Multi NZ In Group Winner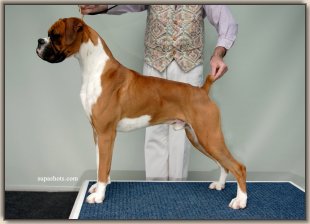 NZ CH Denem Shakespeares Romeo

Sire: NZ CH Sjecoin Pride NPrejudice [Imp Aus]
Dam: NZ GR CH Zmontalk Dundee Lass At Mavquade

Date whelped: 11.11.2005
Owner/breeder: Colin Bradley/T & H Yeoman - Colin Bradley

He is a Reserve of Group winner
Junior of Group Winner
Multiple Best Puppy in Show winner
Proplan Puppy of the Year Finalist 2006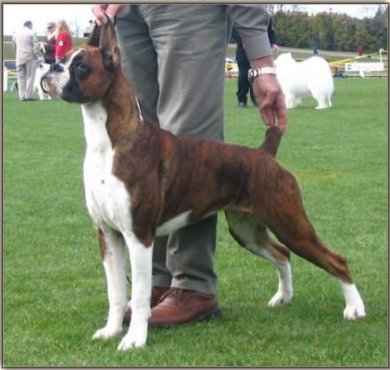 NZ CH Denem Shakespeares Juliet

Sire: NZ CH Sjecoin Pride NPrejudice [Imp Aus]
Dam: NZ GR CH Zmontalk Dundee Lass At Mavquade

Date whelped: 11.11.2005
Owner/breeder: K & R Mihaka/T & H Yeoman - Colin Bradley

Winner of BOB at the NZKC Proplan National Dog Show 2007

She is an In Class Group winner Allbreeds Shows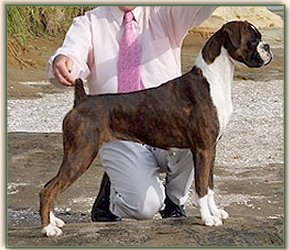 Ch Sanlian Elusive Dreams At Denem

Sire: Ch Sanlian Scotch On The Rocks
Dam: Sanlian Poppin Up At Valeska

Date whelped: 30.04.2006
Owner/breeder: J Plant and C Bradley /J Plant

Lucie is the winner of 2 B.O.G awards , 4 J.O.G. - 1 Junior In Show - 1 Puppy In Show - 6 P.O.G. - 1 x Baby In Show - 9 x B.B.O.G. and a Specialty Reserve Best In Show .

At Rotorua Kennel Assoc Ch Show "Lucie" won her 8th & qualifying C.C. for her NZ Championship title and also won B.O.B.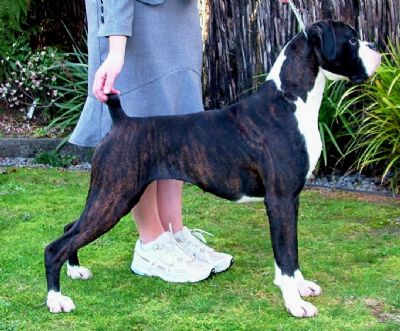 RBISS NZ Ch Sivad A Thing Called Love

Sire: Malhar Nickels 'N' Dime (Imp UK)
Dam: Ozstock Pick Me Too (Imp Aust)

Date whelped: 15th November 2006
Owner/breeder: Rachel & Ian Davis

Coco has achieved the following:

Multi Reserve Best of Groups

Multi Age of Group/Age in Shows

Pro Plan 2008 Premier Runner Up Puppy of The Year

Reserve Best in Specialty Show - SIBC 2009

Bitch CC - 2009 Eukanuba National Dog Show

Crufts Qualified 2010








NZ Ch Glenmorne Justa Globe Trotta (AI)

Sire: Aust. Ch Jimbren Jet Setter (Imp. UK)
Dam: NZ Ch Glenmorne Justa Tad

Date whelped: 21 June 2007
Owner/breeder: Betty Parker

Miss Emily Jane obtained championship status at 12 months of age
Many puppy of group and puppy in show awards and already
Junior of Group and Junior in Show awards

She won Best In Show
At the Wellington & Districts Boxer Club Speciality Show
At the age of 11/half months
Under Mrs Janet Sinclair, a Boxer specialist from USA.

BIS All Breeds - at 14 months of age 6.9.08
Both Judges from Australia
Jim Black (Vic) - BEST IN GROUP
Mrs Balaam (Qld) - BEST IN SHOW








THE FOLLOWING 2 BOXERS BELOW ARE LITTER BROTHERS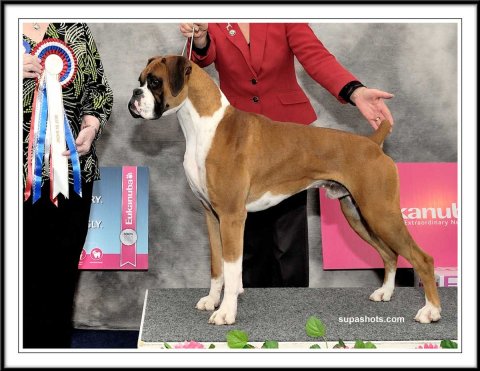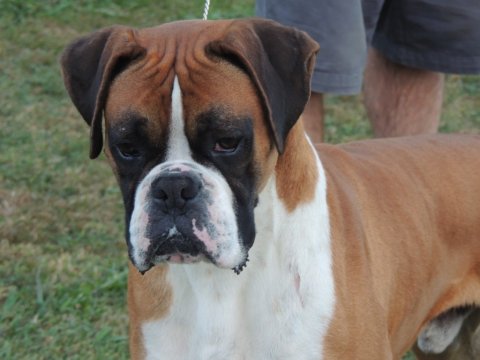 New Zealand Champion
Mavquade Courage On Target (AI)

Sire: NZ CH Denem Courage Under Fire - NZL
Dam: Sjecoin Centre of Attention at Denem - NZL

Date whelped: 28 July 2011

Owner/Breeder: Terry & Helen Yeoman



EUKANUBA NATIONAL DOG SHOW 2013
Best of Breed - NZ Bred Of Group

BEST IN SHOW
Wellington & Districts Boxer Club Inc.,
Judge: Ann Gilbert - Sarkel Boxers

Utility Sevens Challenge 2012
Judge Mrs C Haller - Canada
Reserve Of Breed, NZ Bred of Group

Kawerau Show - May 5
Judge Mr Ian Geddes-Cook (NZ)
DCC & PUPPY OF GROUP

Ladies Kennel Assn Nov 6th 2011
Baby Puppy Of Group at 3 Months of Age
Judge Bev Capstick (USA)

Franklin Knl Assn
17th November
Judge Mr Geoff Love (STH AUST)
Baby Puppy Of Group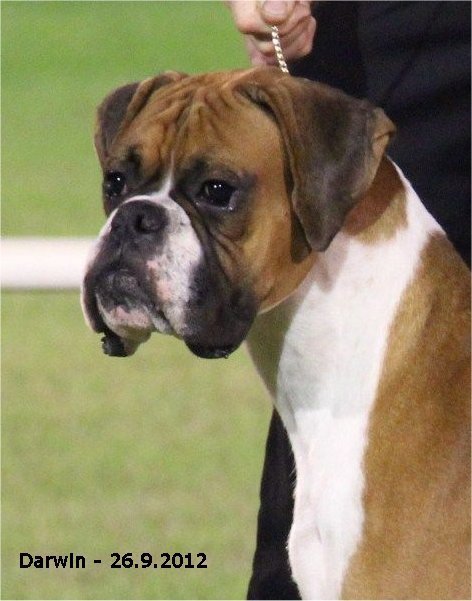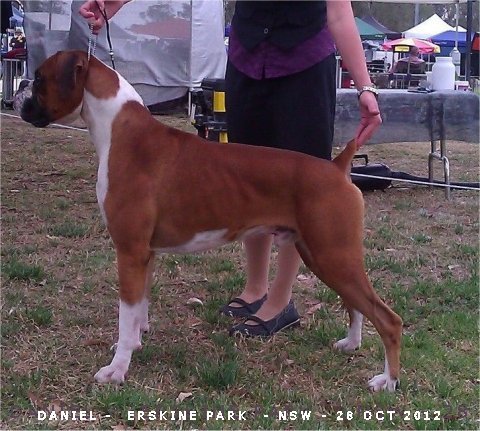 Australian Champion
Mavquade Kiwikid OnTBlock - Imp New Zealand

Sire: NZ CH Denem Courage Under Fire - NZL
Dam: Sjecoin Centre of Attention at Denem - NZL

Date whelped: 28 July 2011

Daniel is owned and loved by:

June Christine Kelly - Sydney - NSW

AUSTRALIA



**********

Daniel did not commence his show career till 12 May 2012
aged 8 months in Darwin Australia in the very capable hands
of Margaret and Graham Doyle - Emani Boxers
and shown to perfection by Margaret and her son Michael
(to which we will always be indebted).
In approx 4 months he attained his AUSTRALIAN CHAMPIONSHIP
and on the way Daniel collected the following awards to date.

Challenge Dog - 16
Best of Breed - 14
Puppy In Group - 5
BEST PUPPY IN SHOW - 1
Junior In Group - 5
RUNNER UP IN GROUP - 5
BEST EXHIBIT IN GROUP - 3

DARWIN ROYAL - 28.7.2012 - Mr A Burt - Victoria - Australia
Challenge Dog
Best of Breed
ROYAL PUPPY IN GROUP

Also Daniel was awarded the following
DOGZ ONLINE POINTSCORE Awards:

No. 1 Utility GROUP Winner - Northern Territory –
DOL Show Dog of the Year Competition - 2012

No. 1 Boxer – Northern Territory –
DOL Rising Star Competition 2012

No. 2 Utility Dog - Northern Territory –
DOL Rising Star Competition 2012








North Island Boxer Pages

1 2 3 4